The 2008 Eircom Golden Spider Awards, celebrating Irish Internet excellence, were held last night (Thursday 20th November) - "Recognising excellence in Internet & digital media".
And the winners are…
Best Financial Services Website
Winner: Irishdeposits.ie
Best Travel, Tourism & Hospitality Website
Winner: Ireland-guide.com
Best Digital Media Website
Winner: tv3.ie
Best Sports & Leisure Website
Winner: imra.ie
Best Community & Charity Website
Winner: heartsplay.ie
Best Education, Research & Training Website
Winner: osi.ie
Best e-business Website – (exclusive to web business)
Winner: litriocht.com
Best Property Website – (non portal)
Winner: chesterfieldblackrock.ie
Best Mobile Content/Application
Winner: Kidsafe – sentrywireless.com
Best New Indigenous Website 2008
Winner: Movies.ie
Best Use of Film, Digital Animation or Motion Graphics
Winner: thebellatwylye.com
Best Blog
Winner: Mulley.net
Best e-Government Website Shortlist
Winner: osi.ie
Best Entertainment & Games Related Website
Winner: redfm.ie
Best FMCG Website
Winner: Lucozadesport.ie
Best Recruitment Website
Winner: Prosperity.ie
Best Interactive Marketing Campaign
Winner: Mrtayto.ie
Best Professional Services Website
Winner: Rbk.ie
Best Web Design & Development Agency
Winner: Webfactory.ie
Best Retail & Home Shopping Website
Winner: Toyota.ie
Best Social Networking & Community - Peoples Choice Nominees
Winner: Boards.ie
Young Designer of The Year
Winner: Naoise Ó Conchubhair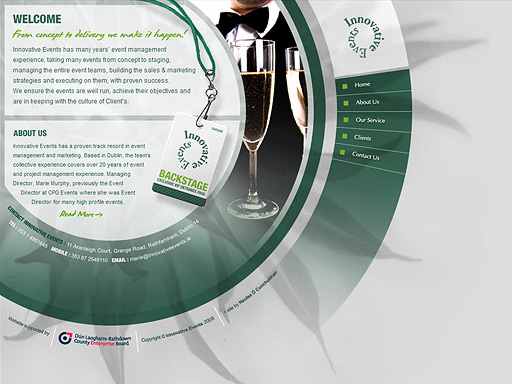 Internet Hero
Winner: Aodhan Cullen
Grand Prix
Winner: Tv3.ie
Peoples Choice Award
Winner: Boards.ie
Congrats to all.
What do you think?
What's your verdict on the winners? The good, the bad, the ugly…?
Check out photos of the awards.
Receive more design content like this to your inbox
I promise not to spam you. No more than one email per week.