I had the pleasure of spending March 11th-15th in Austin, Texas for SXSW Interactive, (possibly/probably) the world's largest gathering of geeks, techies, designers, developers, startups, CEOs, investors and "social media gurus".
I'm sure you were bombarded with #sxsw tweets and Gowalla checkins to various parties so here's an overview of what it's all about.
Talks/Panels
I don't have an exact figure but there must have been at least 500 or so talks over the course of SXSWi.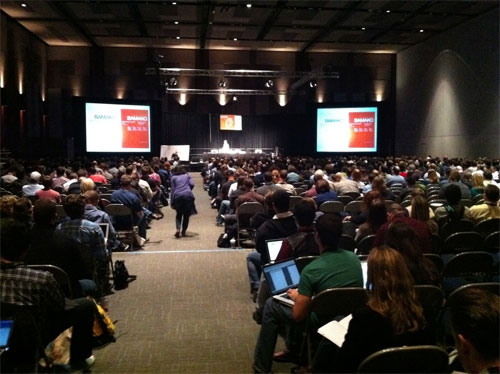 It's very overwhelming and hard to get a plan together. So many good topics and speakers all happening at once so you have to take a risk and choose one over the others.
On top of that you're meeting people and socialising outside the talks.
I attended quite a few UX and design talks but the problem with this is you end up hearing about things you already know or have read about elsewhere. The better talks are about things you have an interest in but that wouldn't be your main domain.
My favourite talks:
I've still to hear the keynotes though, which I've heard good reports about.
Networking Socialising
Plenty of opportunities to meet and greet people at SXSW. As most people at the Conference Center are either in a talk or on their way to a talk, the best place to socialise is at a bar or a coffee shop (depending on the time of day).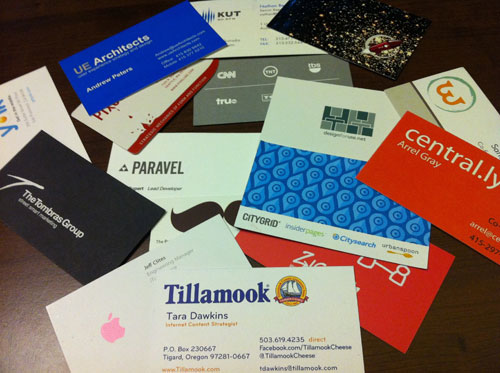 Everybody at SXSW is looking to meet people so the best thing to do is just go up to someone, introduce yourself and ask "So what do you do?".
Parties
I heard this quote mentioned a few times:
SXSWi is 40% business and 60% parties
—Anonymous
Every night there are a tonne of parties hosted by the likes of Mashable, Gowalla, Foursquare, Vimeo, YouTube, Media Temple, MMXINI that are attended by everyone in the industry (plus the occasional celebrity).
The parties are definitely the best places to meet people and if there's someone you really want to say hello to you can usually stalk them on Gowalla or Twitter.
The Ginger Man was a local favourite for meeting up with designers and developers. And I was able to meet up with a client, Sharethrough, at the Say Media party, which was the first face to face meeting we'd had in 18 months.
Travel advice
If you're thinking of going next year:
Anything cool?
GroupMe and Beluga were the "break-out" apps this year. Both group messaging apps, although GroupMe not available in UK yet
Foursquare and Gowalla featured heavily
Noticed Uber everywhere - a new type of taxi service (SF/Austin only I think)
QR codes are a *big* thing - they were everywhere
Apple turned a Gold's Gym into an Apple Store for the launch of the iPad 2
Quite a few "Reserve your username" apps like Connect Me and 1Username popping up
Planzai's Rich Dale did a great job pitching to Dave McClure, Eric Ries and Robert Scoble
Thanks to Invest NI
Big thanks to Invest NI who sponsored 25 interactive companies from Northern Ireland to attend the conference in Austin, alongside Digital Circle and Digital Derry.
Special thanks to Terry Reilly who helps us plan the trip and keeps us right when we're over there.
And thanks to the NI delegates who made it a great experience.
Would I recommend it?
Absolutely.
I was able to meet lots of cool people, learn lots of stuff, make some connections, get some work, and come home fully charged and inspired.
Who's going next year?
« Omnigraffle first impressions Are you an HTML5 web designer? »