What excited me about Logo Design Love was that it was written by fellow Northern Irish man David Airey.
David, responsible for the popular Logo Design Love blog as well as his own personal blog, is a brand identity designer who has worked with top brands globally.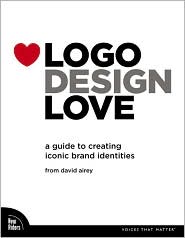 When you finish reading this book, you hopefully will be well-prepared to go out and win your own clients and create your own iconic brand identities.
Who is it for?
The book is primarily for graphic designers. As David shares his experience of being a designer it would be mainly for beginner/intermediate range, but a good read for all.
There are a lot of things shared about dealing with clients and being self employed so I would recommend this to any creatives who freelance or deal with clients.
What's in it?
Lots of great examples of brand identities (and how the designers got to the finished product)
Step by step advice on designing the perfect logo for your brand
Dealing with clients
Project managing a logo design project
Pricing your service as a designer
From pencil to PDF
Experience from a self employed graphic designer
Verdict
Very inspiring book. I haven't done any logo design in a while, after deciding to focus more on web stuff, but now I can't wait to get stuck into a logo project, even if it is just for myself. The book is full of inspiration and ideas.
Also something that you get out of the book is tips on dealing with your clients and being a freelancer. David shares a wealth of knowledge, a lot of which I can relate to and a lot of which I can take advice from. If you're new to freelancing, whether you're a graphic designer, illustrator, web designer or developer, you will be able to learn from this.
Very glad I bought this book.
Pull quotes
The average American sees 16,000 advertisements, logos, and labels in a day
What you take away is just as important as what you keep
People often choose products based on their perceived value rather than their actual value
Color really is secondary to the shape and form of your design
Designers who advertise a list of predetermined prices for x amount of concepts with x rounds of revisions are attempting to commoditize a profession that by definition cannot be commoditized.
Paula Scher, "It took me a few seconds to draw it, but it took me 34 years to learn how to draw it in a few seconds."
always give the client an estimate that is longer than the amount of time you're guessing it will take
Some sound advice!
Receive more design content like this to your inbox
I promise not to spam you. No more than one email per week.