Irish Blog Awards
My blog has been shortlisted for an Irish Blog Award; Best Newcomer – Sponsored by Teamworkpm.net.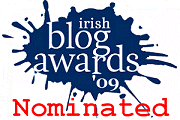 Happy days! Thanks Damien and all the judges involved.
The Irish Blog Awards are Saturday 21st February 2009 at the Cork International Airport Hotel (sold out).
Best newcomer shortlist
Other finalists
Check out the full list of blogs shortlisted. Here's a few finalists that I would regularly read.
Related articles
---
6 Appreciated Comments
Have a comment? Tweet @leemunroe and I'll be glad to respond.